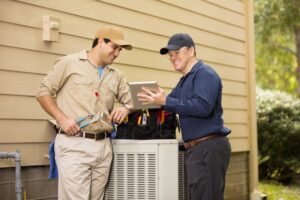 As the year draws to a close and we find ourselves on the cusp of a new chapter it's the perfect time to usher in a breath of fresh air. What better way to do that than with a brand-new air conditioning system? Whether you're looking to upgrade your current setup or diving into the world of AC for the first time, our end-of-the-year guide for AC installation in Azalea Park, FL, is here to direct you.
Reflect on Your Cooling Needs
Before you embark on the journey of AC installation take a moment to reflect on your cooling needs. Consider the size of your living space, the number of rooms you want to cool, and any specific features you desire. Do you dream of a whisper-quiet system, or perhaps one with smart home integration? Understanding your preferences will guide you in choosing the best system to meet your needs.
Energy-Efficient and Smart Options
As we bid farewell to the old year, why not welcome the new one with a commitment to energy efficiency? Explore AC systems with high SEER2 ratings, as they indicate superior energy performance. Not only will you be doing your part for the environment but you'll also enjoy the added benefit of reduced energy bills throughout the year.
Step into the future by considering a smart AC system. Imagine the convenience of adjusting your home's temperature from your smartphone or asking your virtual assistant to cool things down a bit. Smart thermostats and AC systems offer unparalleled control and efficiency. This gives you the power to create the perfect climate in your home with just a tap or a voice command.
Schedule a Professional Assessment
While it's tempting to take matters into your own hands, AC installation is a task best left to the professionals. Schedule a visit from an experienced technician who can assess your home's specific needs. They can recommend the right system and make sure that there is a flawless installation.
Additionally, many HVAC providers offer year-end promotions and discounts to make the prospect of a new AC system even more appealing. Take advantage of these opportunities to invest in your home's comfort.
Plan for Regular Maintenance
As you gear up for your installation don't forget to plan for regular maintenance. Just like any other piece of machinery, your system needs some TLC to ensure it runs smoothly year after year. Create a maintenance schedule to keep your new investment in pristine condition!
Imagine ringing in the new year with a home that's perfectly cooled to your liking, thanks to your brand-new AC system, as you bid farewell to the old and embrace the new. With our end-of-the-year guide for AC installs, you're well on your way to creating a haven of cool tranquility in the year ahead.
Contact Gary Munson Heating & Air Conditioning before this year ends! You will be more comfortable with the best!