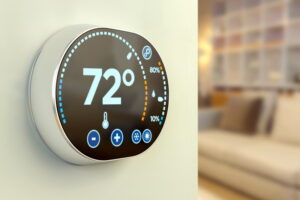 As technology advances, you should expect your home equipment to become more efficient at the same time. Smart thermostats have the potential to change the entire way you heat and cool your home and make you more efficient over time with learned behavior. Let's talk about why they can help you and how to go about upgrading your thermostat.
Learns Your Heating and Cooling Habits
Over time, your smart thermostat understands how you heat and cool your home. Thanks to reporting tools built into smart thermostats, you receive information that tells you where you can save money and energy at the same time. These monthly reports are the ultimate tools to control your bills and reduce wear and tear on your system, so even after your HVAC company in Longwood, FL installs your thermostat, there's still a bit of work to do on your end, but it's all in the name of savings.
You Can Control It From Anywhere
Any good smart thermostat will allow you to control it from an app or a web application on your laptop from anywhere in the house.
Are you in bed when you see the weather report for tomorrow and now you have to increase the heat so you don't shiver in the morning when a cold front comes down? Is it going to be a scorcher and your usual 76-degree setting won't cut it? Just adjust it while you're laying in bed; no need to get up.
Lower Your Energy Bills Over Time
It can take a little while for your thermostat to learn your habits and behaviors. This is where a little bit of patience is required with a smart thermostat. If your heating and cooling habits don't change often, this won't take as long.
Your thermostat will learn the optimal time to adjust the temperature based on your preferences, but it will also optimize your temperature by not heating or cooling your home when it doesn't need it.
You Learn as a Homeowner
Habits, by nature, aren't something we're completely aware of all the time. Being self-aware is important, especially when it comes to your heating and cooling costs. A smart thermostat helps you learn your own energy consumption habits so you can find a more energy-efficient method of heating and cooling your home.
This data helps you to break bad habits, such as turning on the AC when you could wait for an extra couple of degrees, or heating your home preemptively and wasting electricity. Smart thermostats help you become aware.
Smart Thermostats Are the Future of HVAC
Having this level of control over your home heating and cooling helps you keep a lid on heating and cooling costs, and makes the entire process of keeping your home at the perfect temperature simple. Whether you live in Longwood or anywhere nearby, it's an upgrade that immediately improves your accessibility and quality of life.
Contact us today to install a smart thermostat in your home, and begin reaping the rewards as fast as possible.