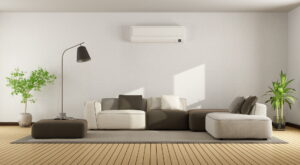 Your air conditioner has finally bitten the dust and it's time to replace it. Either it barely works, or it sits there collecting dust while you explore your options online. If this is the case, then you've probably come across heat pump technology and you're wondering why anyone would choose this kind of system over a central air conditioner.
Well, that's what we're here to answer! When it comes to air conditioning in Winter Park, FL, especially the installation of a new system, it's important to look at all of your options. You don't just have to invest in the same old type of AC unit you've used in the past. You could upgrade to a heating and cooling system that works all year round! Or, you could go ductless, and transform your home into a paradise that's efficient and doesn't leak any air through old ductwork.
Let's take a look at a few of your options.
Starting with a Central AC
Central air conditioners aren't bad by any means. In fact, a lot of homeowners that are reading this post are probably going to be better off with a central AC. They're powerful, efficient, and they are actually a lot more affordable to install than a heat pump.
This is because they don't use the intense technology that heat pumps or ductless systems do. For instance, heat pumps need to be hooked up with technology that will allow them to switch the direction of refrigerant flow and essentially turn the system into a heater. The same thing goes with a ductless mini split.
With a central AC, the refrigerant flows in the same direction all the time. So you're really paying for a single, powerful, efficient cooling system—and that's it.
When to Go with a Heat Pump
Some homes don't just need a cooling system. Especially in our area where our summers are scorching hot and our winters are mild, we want an electrical heating system that doesn't break the bank. So, a heat pump can be the perfect solution for homes in our area.
Heat pumps provide powerful air conditioning during the summertime. They're just as powerful and efficient as a central air conditioner, so you don't really need to worry about which one works better for our long and hot summers.
However, in the fall and winter, it will run the refrigerant in reverse and essentially draw heat out of the atmosphere and bring it into your home. They're great for climates that don't have extreme winters (like ours!) and they're highly efficient at what they do.
Is a Ductless System Worth It?
If you don't have ductwork, don't fret. A ductless system could be perfect for your home. These are basically heat pumps that run with individual air handlers connected to an outside unit instead of through your ductwork. This is great because not only are these systems hyper-efficient and powerful heating and cooling machines, but they're also the perfect solution for homes that are small, old, or just don't want the invasive procedure of installing ductwork.
Contact Gary Munson Heating & Air Conditioning today for reliable AC installation. You will be more comfortable with the best!