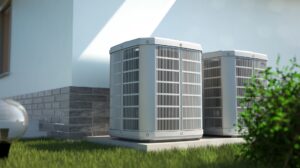 Your air conditioner has seen better days. It's on the fritz, it doesn't push out enough air, and you're constantly calling for repairs. You know it's time to sunset that old machine.
But what do you replace it with? Another AC? It's time to second guess how you cool and heat your home with a heat pump in Orlando, FL.
Heat pumps offer numerous benefits that plenty of FL residents can take advantage of. Let's talk about some of the pros behind heat pumps and why you might switch to one.
You Only Need One System to Heat and Cool Your Home
Heat pumps wear two hats: they heat and cool your home. There's no need for a separate furnace and air conditioner.
You know what that means? Less maintenance. You have one machine to service, so you effectively cut your maintenance schedule in half.
This does come with the downside that if your system breaks down, you have no heat or cool air in your home. Thankfully, our expert technicians aren't just good at installing heat pumps: we're good at repairing them, too.
More Energy Efficient Than Your AC
On average, heat pumps are more efficient than traditional air conditioning systems. This means you can save money where it matters the most.
To enable energy savings, all you have to do is switch over to a heat pump. It really is that simple. Combined with a smart thermostat that helps track and build your heating and cooling habits, there's nothing stopping you from saving more money.
While heat pumps are more expensive to install than traditional air conditioning, think about what you could do with half of your annual heating and cooling costs. That's about to be in your pocket.
Whether it's invested into other areas of the home or you just get to enjoy saving money, it's completely up to you. Enjoy the next 10-15 years of keeping cash where it belongs.
Lower Your Carbon Emissions
Beyond monetary value, heat pumps are also better for the environment. Think about it: you're spending less money to heat and cool your home each month because that heat pump simply isn't using as much power.
It's a net positive for the environment. You need a way to heat and cool your home, and this lowers your carbon footprint by a pretty large amount.
It's good to know that beyond saving money, you're also saving the environment from more harm than necessary to heat and cool your home.
Is a Heat Pump Right for You?
After learning about heat pumps, what are you thinking? Is it finally time to upgrade from standard AC and make the brave change to a system that can cool and heat your home even better?
These all-in-one systems have their downsides, but we'd argue that they're few and far between compared to conventional air conditioning. If you're ready to install a heat pump, you know where to find us.
Contact Gary Munson Heating & Air Conditioning today for your new heat pump installation. You will be more comfortable with the best!