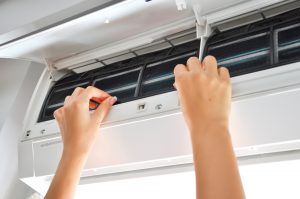 Mini-split air conditioners are a hot topic these days, especially for areas with long, humid summers and short, mild winters. These highly efficient machines can cool off your entire home while also saving you money and providing more peace of mind than a standard central air conditioner. These units are small and barely noticeable inside your home, placed at several strategic locations for maximum cooling effect. Gone are the days of window unit cooling and box fans!
Not only that, but some homes don't have the room or ability to house extensive ductwork systems. Should people with old or tiny houses be unable to have the comfortable cooling system that their neighbors have? Of course not! There are cooling solutions for every home, and a ductless mini-split can be that solution for you. Whether you're looking for a brand-new AC system or just looking to transition from central air to a ductless AC in Orlando, FL, we can help you make sure it's the right decision.
But How Does It Work?
Normal central air conditioners work with a set of coils and refrigerant that remove the hot air from your home through a series of ducts in your walls, floors, or ceilings. The main unit is kept outside while it cycles the air through the vents.
A ductless system still has an outdoor cabinet unit, but it does not use air ducts. Instead, each separate air handler in your home is connected to a powerline, a refrigerant line, and a condensate drain. These mini-split air conditioners function as independent air conditioners that cool different sections of your home.
Other Differences
A full home mini-split system can be almost 30% more expensive to install. That being said, they save money on energy costs, they don't need ductwork to be installed, and they function as heaters as well. This can often mitigate the heavy price-tag for a ductless AC.
Keep in mind that these systems have multiple, independently functioning air handlers that can be switched on and off at the press of a button. That means you can cool certain parts of your home and leave others un-conditioned if you're never going to set foot in there. This is obviously going to save you money and energy in the long run.
The Price of Inefficiency
Many homeowners like to think that a small window air conditioner, or dealing with the muggy heat with a horde of box fans will save you money and consume less energy than an air conditioner. Though, this really isn't the case.
Modern-day air conditioners are extremely efficient in how they use energy. Electric heat pump systems, like a ductless mini-split, can provide the same cooling power as a window unit while covering more area and costing less money. If you've got the money for an investment like a whole-house ductless air conditioning system, and you're looking into the future, it might be well worth the price.
If you're looking to install a full home mini-split system, contact Gary Munson Heating & Air Conditioning. You will be more comfortable with the best.