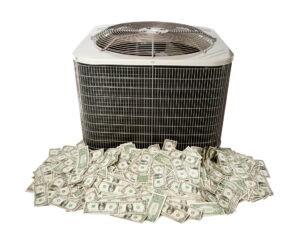 Yep, it's almost January. To many homeowners up north, that means forgetting about your air conditioner for another month. To us here in Florida, it means another potential few days of above 80° weather that requires the help of our AC systems. While heaters might be used seldomly here in Orlando, air conditioning systems and heat pumps are used almost all year round, which makes it so much more important to notice when something is wrong!
When your air conditioner is short cycling, or it's suffering from another problem, what does that look like? How do you know you need to call for an HVAC contractor in Orlando, FL? Lucky for you, we're going to go into detail about those very things. We'll talk about when the right time would be to call for help, and why we're the team to get in touch with!
What Is Short Cycling?
We're glad you asked! No seriously, we know we talk about this problem often on this blog, but we can't get enough of homeowners asking about it. It's one of the most serious issues that can affect your air conditioner and can likely lead to it breaking down after only a few years of operation. Short cycling is, as the name implies, when your air conditioner runs short, frequent cycles that cause stress on certain important components.
If you're thinking to yourself, "Well, my AC runs short, frequent cycles all the time," Then let us rephrase. Air conditioners that run short cycles are often very noticeable because they just run more cycles every day. If you're hearing your AC turn on 50 times every day instead of 10, or perhaps you're getting annoyed by the constant churning of it turning on and off, then you could absolutely be suffering from a short cycling system. Here are a few causes for a problem like this.
Your AC is too large. Think about it, an air conditioner that's too large for a home will cool it down too quickly. Instead of running the normal cooling cycle it's supposed to, it will turn on, cool things down too fast, and then shut down abruptly.
You're suffering from a refrigerant leak. Less refrigerant means the system is having a harder time running its full cycle. Short cycling could be a clue that you're down on refrigerant.
Your compressor is failing. A compressor that's not working correctly will have trouble running full cycles. This is important, as the compressor is the most expensive component to replace in your air conditioner, and is the central component to the cooling process!
Get Your System Fixed or Replaced
If your air conditioner is sized incorrectly, then the best method for having the problem solved is by getting it replaced by a unit that is sized perfectly. Other problems, like refrigerant leaks and a faulty compressor, can be fixed as long as it's done by the right team of professionals.
Call our team. We are family-owned, offer live person service, and our replacement systems come with a 10-year parts/labor warranty that's built to save you money down the line!
Call Gary Munson Heating & Air Conditioning today to address your short cycling AC. You will be more comfortable with the best!