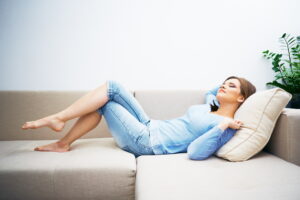 We've spoken on this blog about the importance of a dehumidifier in our neck of the woods, but we rarely go into a lot of detail about it. Well, we're going to change that today by giving you some of the best reasons why a dehumidifier might be your most anticipated purchase this year. Especially if you've got an air conditioner that's relatively young or in good shape, a dehumidifier might be a great way to improve energy efficiency, make your home more comfortable, and help your AC last long into old age.
Dehumidifiers in Orlando, FL are systems that draw moisture out of the air as their primary job. While your air conditioner might also do this job, it doesn't do it nearly as well and it's not the focus of your AC. By running a dehumidifier simultaneously with your air conditioner, your AC can focus on cooling your home while your dehumidifier focuses on drawing moisture out of the air.
Dehumidifiers Can Help With Cooling Your Home
Your air conditioner needs to be able to function efficiently. If it's not cooling your home efficiently, you're going to notice higher energy bills and an AC system that's stressed out. Some of this stress can come from dealing with the huge amounts of humidity we get on a regular basis.
When you couple your AC with a dehumidifier, you can split the jobs up among the two systems so they both work efficiently. It's classic teamwork–your air conditioner will use much less electricity to just cool your home, while your dehumidifier focuses on efficiently removing moisture.
Also, keep in mind that a lot of the discomfort you might feel during the summer comes from humidity and not from the actual heat in the atmosphere. A dehumidifier can help cool your house just by doing its regular function!
Protect Your Home From Mold Growth
Mold can be a big problem for your home and your personal health. Unfortunately, mold loves wet, humid environments. This could mean that mold is thriving in your home due to out-of-control moisture levels in the atmosphere.
A dehumidifier is going to ensure that your home remains safe and that the air inside it is breathable. Check out some of our other indoor air quality systems, like an air purifier, if you'd like to further remove mold spores from the air!
Support the Structure of Your Home
Did you know that moisture and mold can cause serious problems to the foundation of a home? If you've got large wooden beams throughout your house, or an unfinished basement with either a concrete or dirt floor, any level of moisture beyond a small amount is going to wreak havoc.
Wooden beams or load-bearing supports are going to soak up the moisture in the air and start warping. This will cause your home to lose its structural integrity, and it can also lead to your wooden beams and posts rotting. Eventually, this can be a disaster for your house, unless you stop the moisture from doing damage now. A dehumidifier can also protect your concrete slab from moisture infiltration and the growth of mold in sensitive areas of your basement.
For dehumidifier services, call Gary Munson Heating & Air Conditioning. You will be more comfortable with the best!