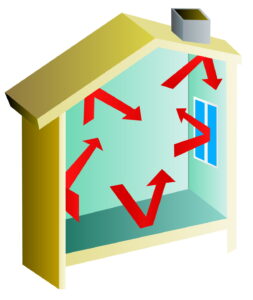 Moisture isn't necessarily bad. There are a lot of different types of moisture we enjoy, like the steam that comes from a hot shower or the cool water mist that comes from one of those spinning fan toys. Basically, moisture isn't really that big of a deal unless we're talking about HVAC or home improvement. And we hate to be the bearers of bad news, but this is an HVAC blog!
Basically, humidity can cause all sorts of problems for a home. Without a dehumidifier in Orlando, FL, there's nothing to stop moisture from causing mold growth, weakening the foundation of your home, and adding to the uncomfortable temperatures we get when a heatwave arrives. The only true and tested solution for this is the installation of a dehumidification system that our team can provide.
Read on as we get into the specifics of why dehumidifiers are so necessary for our neck of the woods!
The Three Major Problems With Moisture
This isn't one of those kinds of blogs where we list a thousand little problems with too much humidity in your home. Instead, we'd like to go into detail about the three major problems that homeowners can encounter when they don't have a dehumidifier to reduce the water vapor in the air.
Keep in mind that while most other areas of the United States might require humidity during the wintertime, we don't have that kind of climate here in Orlando. So all we need to worry about is dealing with the influx of humidity that we see all year round.
1. Mold
Mold is the first and most brutal problem that comes from too much humidity in your home. It can start in your basement, crawlspace, air ducts, and other dark places of your home, but it will eventually branch out to the rest of your rooms. Mold is like a sickness for your home, and too much humidity can allow it to grow and fester.
Using a dehumidifier and controlling the humidity in your home can mean that mold doesn't have what it needs to keep growing. You'll likely see mold recede and also stop it from growing in the first place.
2. Furniture and Fixture Damage
Do you have beautiful wooden furniture and fixtures in your home? We know that a lot of homeowners have houses that they take pride in, and it would be absolutely devastating for these antique pieces of furniture to be harmed.
Wooden furniture and parts of your home actually need proper humidity treatment to last. Too much moisture can cause wooden furniture and fixtures to swell and eventually rupture. Keep your home's furniture in good shape by removing the humidity from your home.
3. Comfort
Last but not least, too much humidity can be uncomfortable. We see homeowners all the time call us for AC repair when their air conditioner is working as hard as it can to remove humidity from the air.
Moisture in the air retains heat very well, which means it's harder to cool your home down when there's high humidity. A dehumidifier can work together with an air conditioner to reduce humidity and cool things down properly.
Call Gary Munson Heating & Air Conditioning today to invest in a dehumidifier. You will be more comfortable with the best!