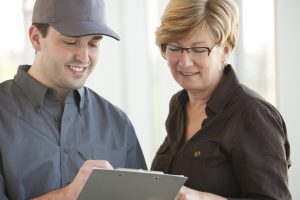 Commercial HVAC is similar to residential HVAC work except there can be a lot more on the line. When it comes to an entire building or business having the right air conditioner or heater set up, there's no room for mistakes which makes finding the right team of professionals all the more important. That's where things get tricky.
Unless you've got a guide to help you choose the right team of pros for the job! Seriously, so many business owners looking for commercial HVAC in Orlando, FL just choose the first contractor they've heard of or see in the phone book, but that's never the best way to choose a team.
We're here to talk about looking at things like credentials, qualifications, experience, customer reviews, and so on. Once you've weighed your options, you'll feel better about entrusting this important work to a team that you know will get the job done right.
What Commercial HVAC Entails
Commercial HVAC work is intense, usually involves heavy machinery, and can cost a lot of money for building and business owners. Since the stakes are higher and there's a lot of revenue to be lost from a poorly functioning air conditioner here in Orlando, here are just a few of the important things to look for when considering commercial HVAC work:
Customer service
Qualifications
Experience
Reputability
If you're wondering how to figure out if a professional meets your criteria, now you're asking the right questions. Let's see.
Customer Service
This is an easy one to determine for yourself. If you're constantly calling an HVAC contractor to schedule work, and they're rude, never pick up the phone, are never available, or just don't like working with people, then you've got to turn away. How a contractor deals with customers can be a huge insight into how they run their business, how they treat their team, and how they will treat you for years to come. Working with a team that doesn't enjoy working with customers in their area just isn't worth it.
Expert Qualifications
When you've decided on a commercial HVAC contractor to work on your property, what qualifications do they have? Are they OSHA certified for safe work practices, meaning they treat their employees well? Or at least they have their HVAC license, right?
The truth is that many business owners work with the cheapest team they can find, which means skimping on relevant licenses, certifications, training, and other necessary qualifications needed for the job. Don't be one of them, hire a contractor the right way.
Experience
Talk to your prospective contractor about your HVAC problem. Ask them about what they've seen in the field, about prices and budgets, and ask any relevant questions about the heating or cooling process. A great team of professionals will be able to answer all these questions and more because they've got plenty of years of experience under their belt.
Reputation
Choosing a local HVAC company is always better because they've got a reputation that is clear and open. Ask your neighbors about this company, and read their reviews all over the web. A great commercial HVAC contractor should have good reviews with its customers because it shows a solid work ethic and consistency in the work they do.
For a contractor that meets all those requirements, call Gary Munson Heating & Air Conditioning today! You will be more comfortable with the best!