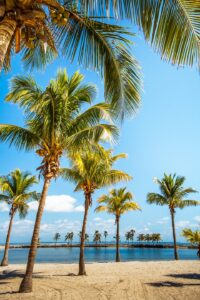 It's March, which means that spring is finally here! Temperatures will soon be warming up and the flowers will be blooming, so for everyone in Florida that means one very important thing–we need to get our AC systems ready! For many homeowners it's simple, you just need to take your AC cover off or set your thermostat to "cooling" mode when temperatures finally get too hot. But for many other homeowners, this part of the year raises a different question. How do you go about installing a new AC?
Today, we're going to talk about some factors that might change the way you investigate AC installation in Orlando, FL. There are all sorts of different cooling systems on the market these days, and it's vital that you choose the right one for your home, and have it installed by the right team! So, let's discuss all you'd need to know for a new AC installation.
Save Money Wherever You Can
An installation can be one of the most expensive investments you can make. That's why it's all the more important to weigh your options and find new methods of saving money. Here are three examples below of some great options for homeowners that want new air conditioning systems but need to shave a bit off the top of the cost to match their budget requirements.
Rebates. When manufacturers come out with new and efficient cooling systems, they need an incentive for homeowners to purchase them. Newer systems will always be more expensive, so how do they get homeowners on a budget to purchase one of these units? Well, with rebates! Pay for the cost of an installation now and receive money back later on that comes directly from the manufacturer!
Tax Credits. The government, whether it's state, local, or federal, wants you to use a more environmentally friendly cooling system. This means lowering the load on the power grid and making it easier for the municipality to avoid outages. So, investigate some new tax credits that might help you save money on AC systems.
Our Maintenance Program. Take a look at some of the ways to save on our maintenance program! These can be great at helping reduce repair costs and extend the longevity of your system.
Choose a Central Air Conditioner or a Heat Pump
Are you in need of a heating system as well as an air conditioning system? Then you might be better off actually installing a heat pump rather than just an air conditioner. These units work all year round and they're exceptionally efficient. Our team is full of heat pump specialists, so we can evaluate your home and tell you if it's right for a heat pump.
Think About Going Ductless!
No ducts? No problem! Ductless heating and cooling systems are all the rage these days, and they're great units to invest in when you need a new installation. Call our team to learn more about ductless options.
Call Gary Munson Heating & Air Conditioning for tips on how to start scheduling air conditioning installation. You will be more comfortable with the best!